Overall success: OK.
Level of difficulty: simple.
The Jim score: 2, to be polite. It was pointless.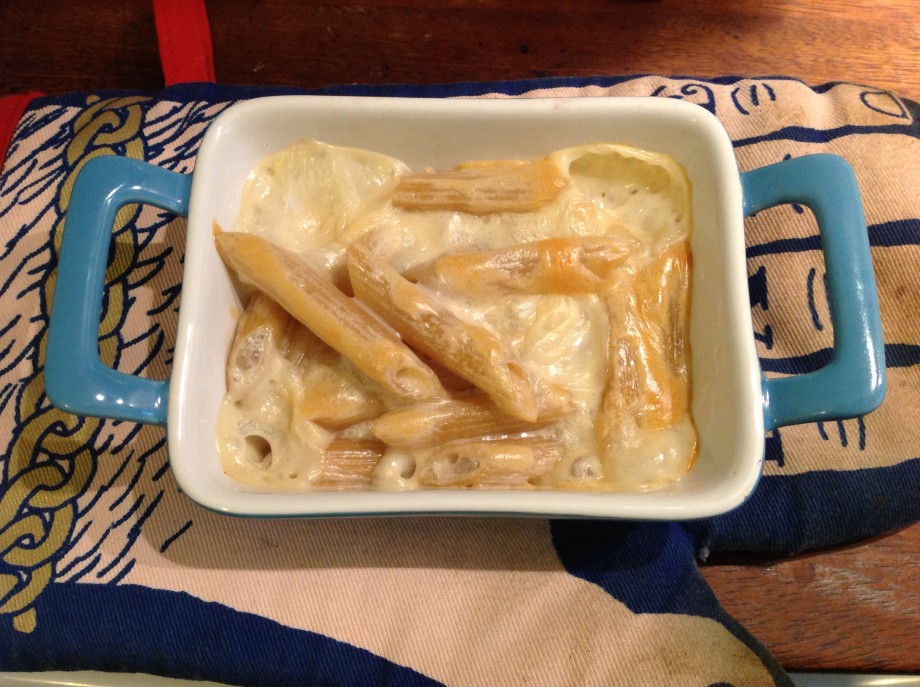 It was with trepidation that I started this challenge. There was a lot of 'Oh Dave, what are you doing to me? Why would I make processed cheese? This sounds a bit too chemically and sciencey for me. I just like good solid meal'. But THEN I thought 'well I suppose I am meant to be doing something that I wouldn't normally do. That IS the point of this blog'. So after a bit of confusion, I ordered my digital scales, got the ingredients and set myself up whilst visiting The Ma. I used this recipe to start with but used the cheese I had, rather than following the recipe to the letter. Also, because I was dubious about the challenge, I halved the ingredients.
So. Here we go.
Processed Cheese
120g Edam grated
75g Comte grated
4g Salt (though I think this should have been 2g – whoops)
90g Beer
85g Water
12g Sodium citrate

First things first. Don't be confused as I was when using a scale which measures to 0.01g – it made me very confused – why I don't really know – but I had to weigh everything at least twice.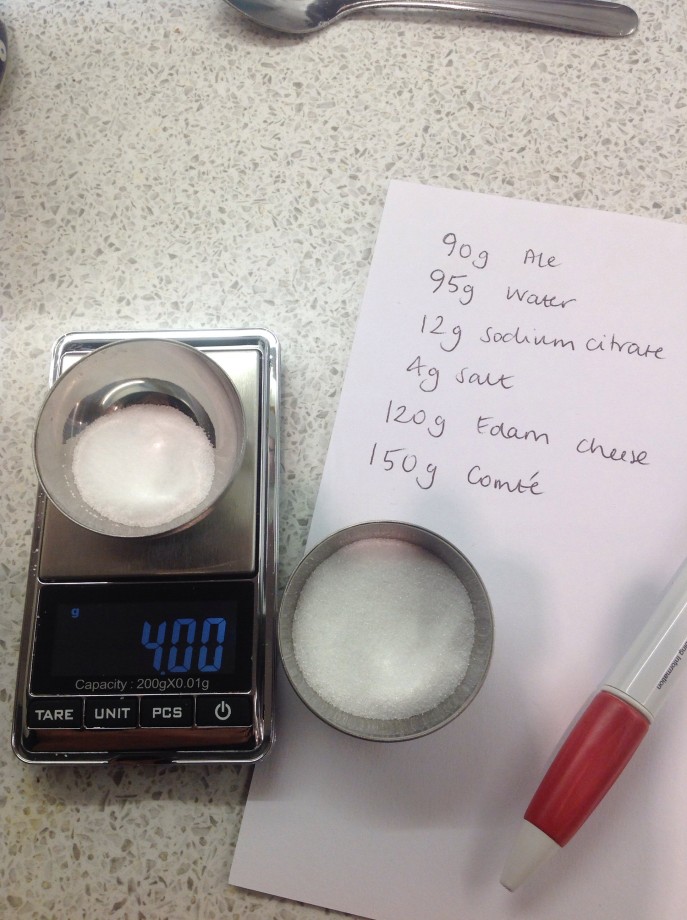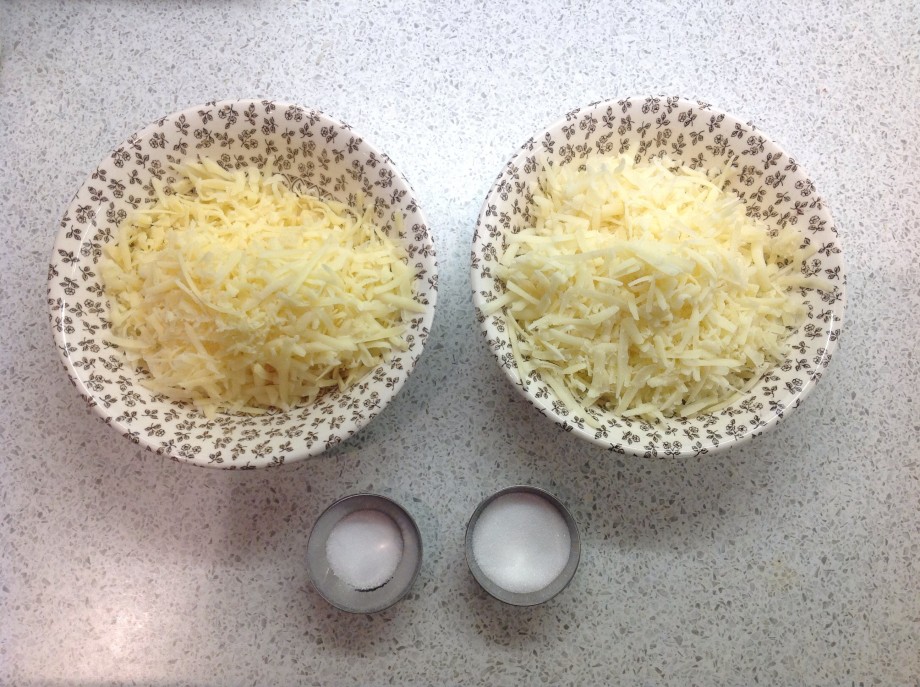 Put the beer, water, sodium citrate and salt in a medium saucepan over medium heat. Bring it to the a simmer, whisking it until everything has dissolved.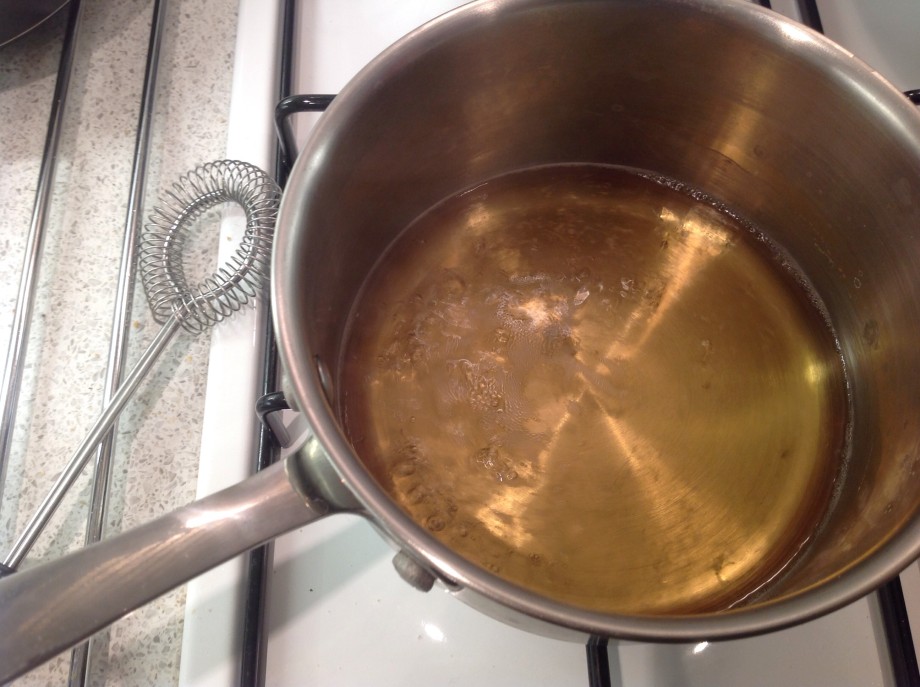 Then add in the cheeses and whisk until completely melted and smooth. It really looks like it won't work and it just looks like a mess but ultimately it dissolved. Keep at it – just whisk away and soon enough, you'll have a very smooth cheese sauce.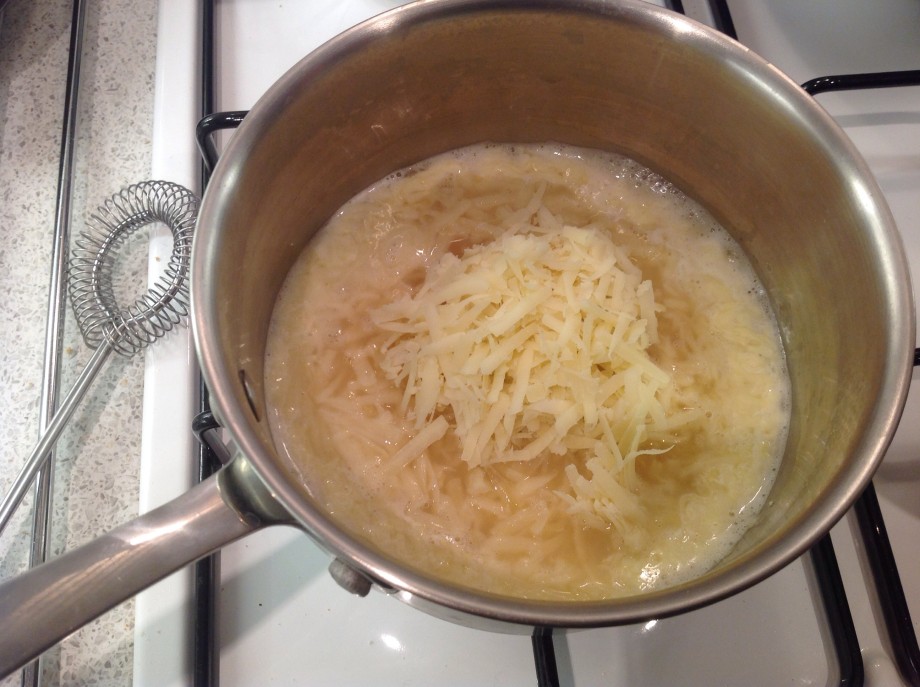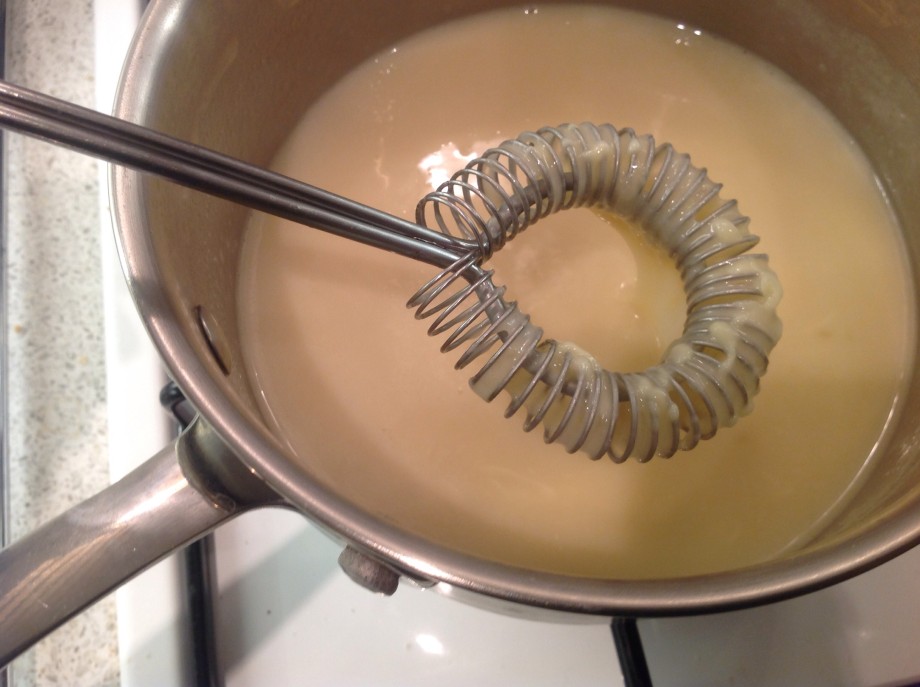 Once it was all smooth, I poured the mixture into a tin lined with baking parchment and left to cool. Very quickly it had a custard like skin on the top. And pouring it out was odd – it was like some gunge from the fun factory which hardened pretty quickly. Anyway, when it was totally cool, I wrapped it up and popped it in the fridge.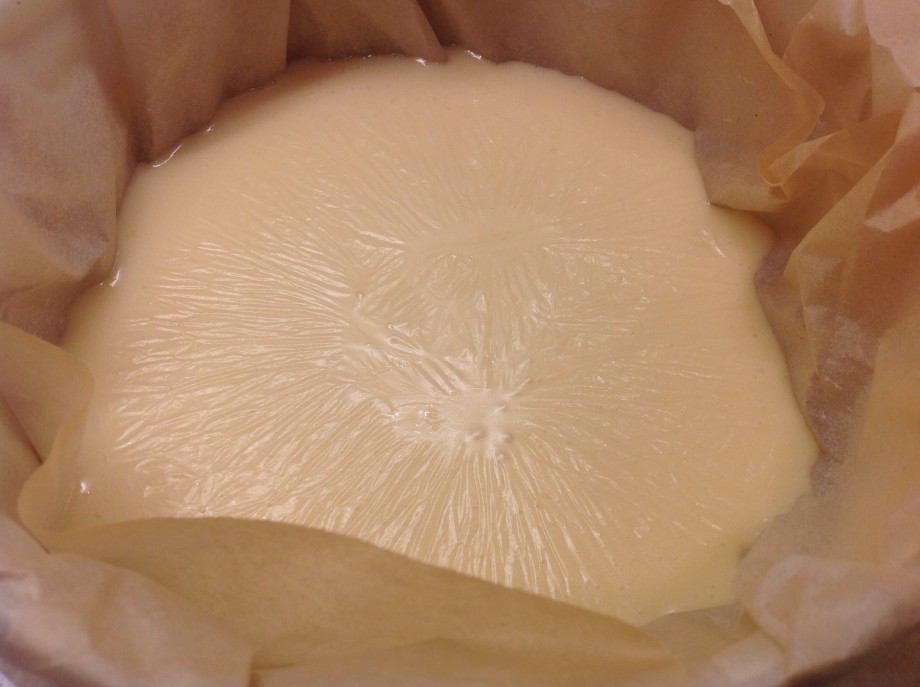 The next day, I took it out and poked it. This cheesey splat was intriguing to my friend Joey, The Ma and The Jim. They kept asking why I had ruined two perfectly good pieces of cheese. I have to say I was of the same opinion.It looks shiny, smelt slightly weird and seemed quite like Dairylea or those Cheese Strings of nineties packed lunches. And I don't believe that's what cheese should be.
But I persevered nonetheless and finally the time came, a week after making it, to use it in a macaroni cheese. I made a miniature one, partly because I wanted to try it out and partly because I didn't think we'd like it. Whether this was right or not, I couldn't tell you as I didn't use a recipe, but what I did was to take a chunk of the cheese, put it in a pan on a low heat and melt it. At the same time I boiled up some penne (not macaroni!). When the pasta was done, and surprisingly the cheese had melted back into that smooth, glossy substance, I added the pasta to the cheese glue, mixed it round and put it in a preheated oven until it was golden.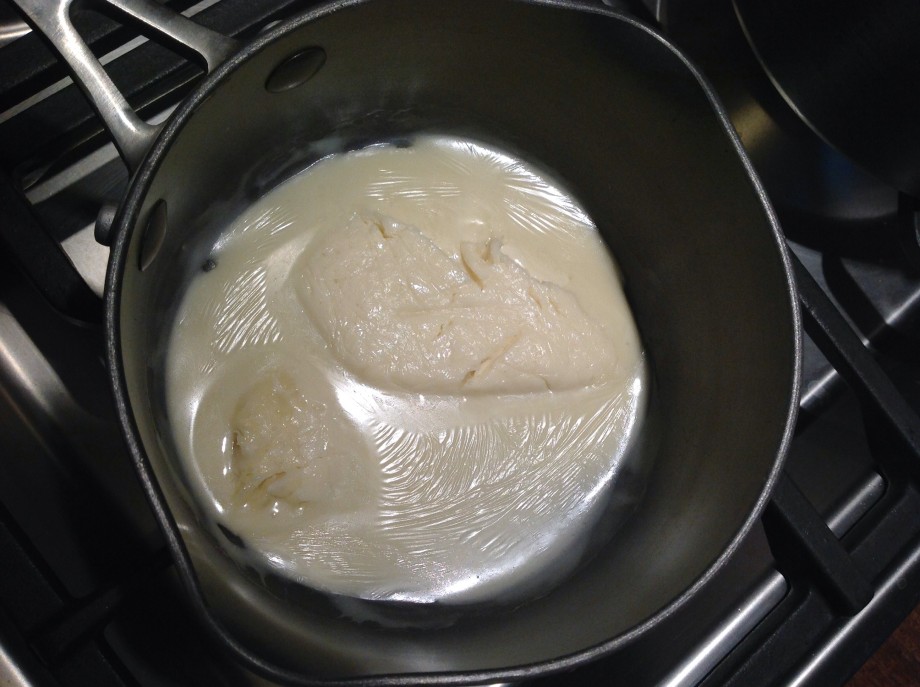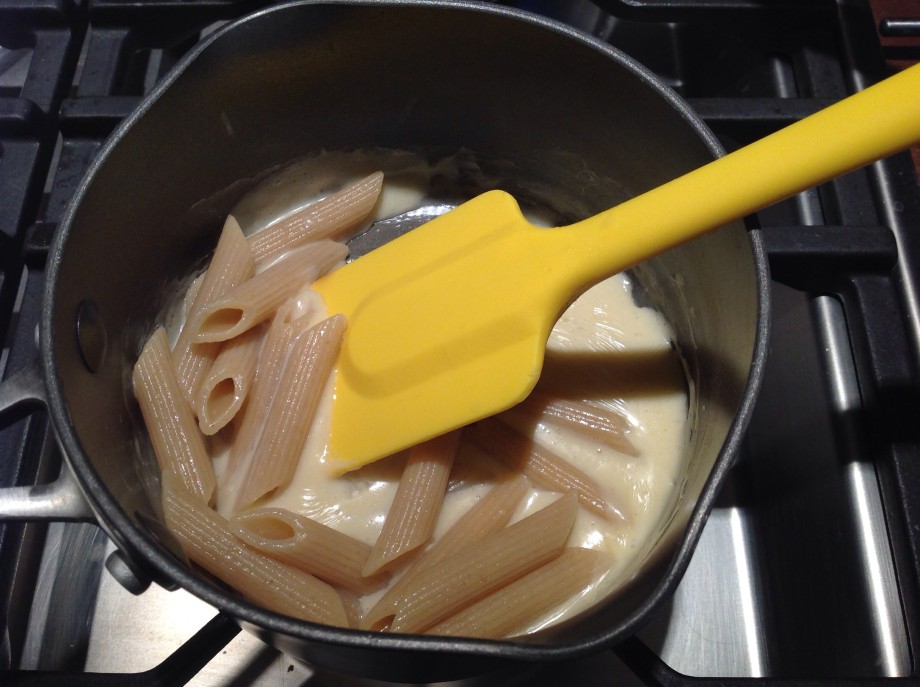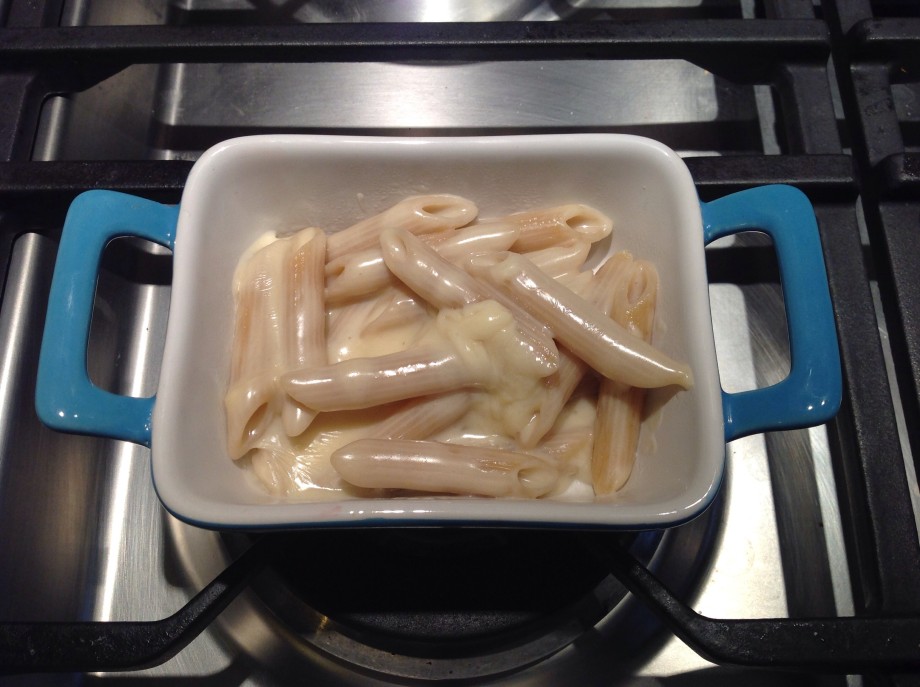 Well, we ate it. Not because it was delicious, but because it was a bit creepy, savoury, kind of OK and we're all pretty greedy. You see, I make a really good 4-cheese macaroni cheese, with a standard cheese sauce. I also don't really like cheese on burgers. The Jim just couldn't understand the point. It was the first one where he was a bit lost for words.
Dave, I'm afraid this one is not one that's passed the test – it might be my failings to give it a proper go – I'm sure it could be better but I just don't feel my heart it in it. Give me another please.